If you want a table TODAY – Call the Cafe! For any reservation in the future (not today) – Please fill out the quiz below:
We are CLOSED Tuesdays & Wednesdays.
This means we are not open, in other words: no-can-do on reservation requests for dates that fall on Tuesdays &/or Wednesdays. (Except during some HOLIDAY periods and if we are open, it will say that, somewhere on this website). So please consult the stars, your phone, biblical tablets, young children who look smart or as a last resort: a calendar and make sure you're not asking for a Tuesday or Wednesday reservation
For Same Day Reservations: PLEASE CALL the Cafe @ 435.644.8001
This means: If you wake up Friday morning (or any other day we're open) and decide you want a great meal for lunch or dinner @ The V, CALL US!
Why? Because the reservation monkey (pictured below) carries her phone in her space suit but is taking care of guests and can not check the phone every 3.96 seconds to see if a reservation has just been requested, as talking on or checking the phone while in the presence of guests in an interstellar no-no!
AND NOW, on with our regular programming:
You ARE our favorite guest-to-be of ALL TIME, so we want you to know that you are SPECIAL… just like everyone else! (NO, you do not get a trophy.) Because you ARE special (& your specialness is fading, otherwise we would have left the word "special" in CAPS), we need to get your info so we can "get you in the book."Please fill out the form completely or you'll quickly transit from getting IN the book, to, getting the book thrown AT you.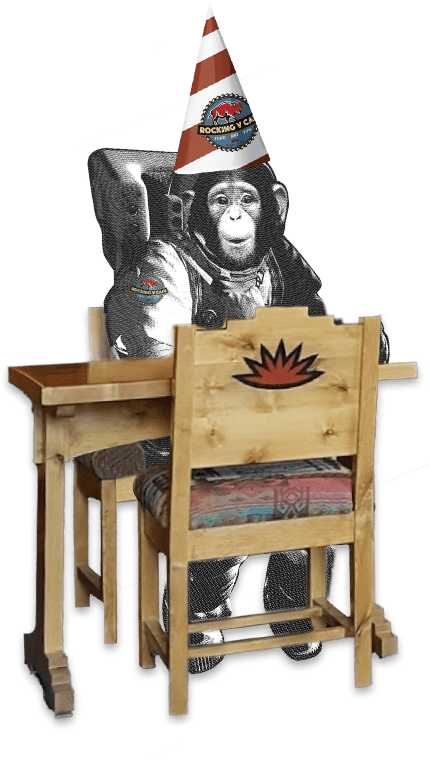 We will send you a confirmation e-mail that either:
a) tells you we love you & your reservation IS confirmed because you're a good girl or boy and you gave us all the info we needed (you get a cookie!)
b) castigates you for not following our clear & explicit instructifications
WARNING: DO NOT FORGET ABOUT DAYLIGHT SAVING TIME which is in place from early March to early November
What this means to YOU:
If you are traveling to Kanab (which is in Utah) from anywhere in NEVADA (think: Vegas) or anywhere in ARIZONA (think Phoenix, Flagstaff, in or near the Grand Canyon)
We are 1 hour LATER than where you just came from, so adjust your reservation time request accordingly, por favor. Merci

Hours
WINTER
OPEN Thurs - Mon
11:30a - 8:30p
CLOSED Tue & Wed